Today is
Our restaurant is a leader in Independent Restaurants for over 55 years and we expect to come through this stronger than ever. Thank you for your encouragement and support!
Here are the COVID 19 guidelines that allow us to continue our reputation of excellence and service for fine dining.
Hours: Dinner is served daily, Monday – Saturday, 4pm to 8:45pm Reservations are required. Maximum size of party is 8.
Please arrive 10 minutes before your reservation time. Call the restaurant when you arrive and we will let you know if your table is ready. If it is not, we will text you when your table becomes available. This gives us time to clean and sanitize the booth for your safety.
Face masks are required before entering and in all common areas of the building unless you are seated.
Please enter through the front door only, and come to the front desk. (Exit through rear door only).
As always, carry-out is available. Walk-ins are welcome on a limit basis.
With appreciation and care,
Lance Stewart, Tina Stewart Cass, Owners
The Stewart Family
The Oakwood Club Staff


Voted as a top steak restaurant in this region.
See More
Trip Advisor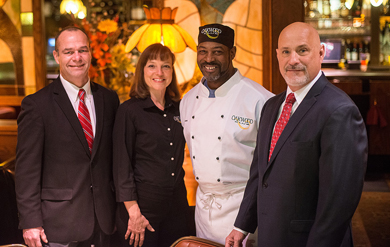 From left: Manager John Minoughan, Lead Server Cris King,
Sr. Executive Chef Nate Young and Club Owner Lance Stewart.
South African lobster tails · Maryland crab cakes · Scallops wrapped in bacon · New York strip · Rare Tuna · Walleye · Salad dressings to perfection... Just a few of the offerings from one of Ohio's finest restaurants.


For up-to-date offerings, "Like" us on Facebook